I've decided to do something different for this travel post. Past adventures that I have blogged about have only shown you the outcome, and all the pretty sights I got to see. This time around I really wanted to share HOW I traveled. I thought it might be helpful for future travel junkies to suggest an itinerary, show my costs for accommodation and food, as well as tips of what I might have done differently. I hope it helps! *Please note*, a trip of this nature can also be done UNDER $2,000USD, and it an also be done way over that as well. It really depends on your travel style, if you're traveling alone, and your itinerary! At the bottom of the post, I listed ALL of our expenses throughout the whole trip, to better compare where someone might plan a similar one.
The Southeast Asia trip to Thailand and Cambodia was an idea that originated when Erin and I were traveling around Scandinavia two years ago. While we LOVED that trip, and you can read more about it HERE, we decided that our next big trip would be 1) warm! 2) cheap. Scandinavia is the most expensive place to visit in the world; we would end up skipping breakfast, splitting lunch out at a restaurant, and then eating whatever leftover food we could find in the hostels! It was an adventure, but we wanted a totally different experience next time around. Thailand seemed like the perfect place to start.
As plans started to evolve, my sister, Katie, jumped on board as well. The hope for the trip was to keep the budget to a minimum, while still *splurging* here and there. Also, my sister and Erin couldn't take too much time off of work, so we were limited to 2 weeks of travel only. You could easily spend 4 months in Southeast Asia and still not feel like you saw enough. With our limited time budget, we had to have exact plans of what we did want to see, and what we could skip out on this time. We decided to break the trip up into 3 major "parts". 1) Northern Thailand. We wanted more of the rugged, jungle vibe, and Elephants! 2) The islands. There are SO many to choose from, but we were looking for one that was fun, lively, popular, and still beautiful. 3) Cambodia/Angkor Wat. We wanted to see something beautiful and spiritual. There are temples on every corner in Thailand, but the ancient temples of Angkor Way can NOT be missed when traveling to Southeast Asia.
The first step to solidifying this trip, was the plane tickets. This was going to determine our budget for the rest of the trip! About 5 months before we headed out, I found ROUND TRIP flights from Los Angeles to Bangkok for $505. Insane! Sadly, we didn't book them on the spot. Both Katie and Erin had to make sure they could get the time off from work. By the time we were ready to buy, the flights went up to $630. Still a great deal, and we bought them. We could have saved ourself $125, but it still kept out budget pretty low. (Erin ended up buying hers even later, since she couldn't meet us for the first part of the trip, but joined us in the islands! Katie also had to get a flight from NYC to LA, which cost her about an extra $400 roundtrip.)
While planning the rest of the trip, we were aiming to spend ~$35-50 a night on lodging. We also assumed ~$30-40 a day for food and drink, depending where we were. We also expected about $275 in hopper flights to all of the other destinations we wanted to go to. Agreeing on places to stay was our first hurdle when booking lodging. I personally am all for cheap living. That way you spend less, but it also forces you to not stay in your kushy hotel room when you could be exploring the city! I love hostels for this reason, along with the fact that hostels provide a plethora of fellow travelers to meet and explore with. I've had some great conversations and local travel tips from people that were staying in the same hostel as me that I meet in the common rooms or kitchen of our lodging spot. My sister wanted a bit more comfort. Her view was why travel dirt-cheap in a country that can give you an amazing hotels for $60 each? We agreed to meet in the middle, and some spots were cheaper than others, and we also agreed on splurging on one night in Railay Beach at a nice resort half way through the trip.
And off we were!
Day 1-3: GETTING to Bangkok
The flight from Los Angeles to Bangkok (with a layover in Guangzhou, China) was a long one. We flew China Southern and it was a smooth and comfy flight. The movie choices were "ok", and the food was hit or miss, but no complaints for the price we got it for! We left on a Saturday night, arriving in Bangkok on a Monday mid-day. We knew we would be exhausted, so we actually got a hotel near the DMK airport (where we would be flying out of early the next day to get to Chiang Mai). We got a taxi at the airport to get to our hotel, and after about 20mins trying to describe where we needed to go to our driver, who didn't speak English, we finally got there an hour later! This first night we did 'splurge' on a nice hotel to rest up at. We stayed at the Novotel Bangkok Impact, had a late lunch/early dinner, and went to bed. We were wide awake at 2am, and just stayed up until our 7am flight. We taxied over to the DMK airport and were off to Chiang Mai!
Day 4-6: Chiang Mai!
We landed around 9am, and easily got a taxi to our adorable hotel, the Green Tiger Vegetarian House. This place was beautiful, and for such a great price! I think Katie and I each spend $30, sharing a room with two beds and a balcony overlooking part of the city. The Green Tiger is located just inside the north wall of the Old City. We couldn't check in just yet, so they held our bags and we ventured off into the old city! We got some food and drinks, and also went shopping for some "elephant pants". We wanted something light (it was SO hot out!), comfy, but covered our legs so that we weren't disrespectful when entering the temples, which were everywhere. You can find elephant pants on every corner as well! We each got two pairs for $3 each. After we checked into our room, we put on our new pants, which we wore throughout the whole trip, and headed out again. Chiang Mai is beautiful. It is also safe. We never felt threatened walking down any of the side streets, which can actually be said for our whole trip. The Thai people are very respectful and friendly. We went to a few temples, and got a massive meal of 3 entrees, 4 drinks, a few bottles of water, all for $14! We then walked through some markets around the east gate and tried some interesting street food. That was another goal of ours- strange street food! We planned on just eating street food for dinner, and we went to the night market just outside of the South wall. We got a mixture of a few different things, and liked everything we tried! We then walked up to the north part of the old city back to the Green Tiger. It was a perfect night.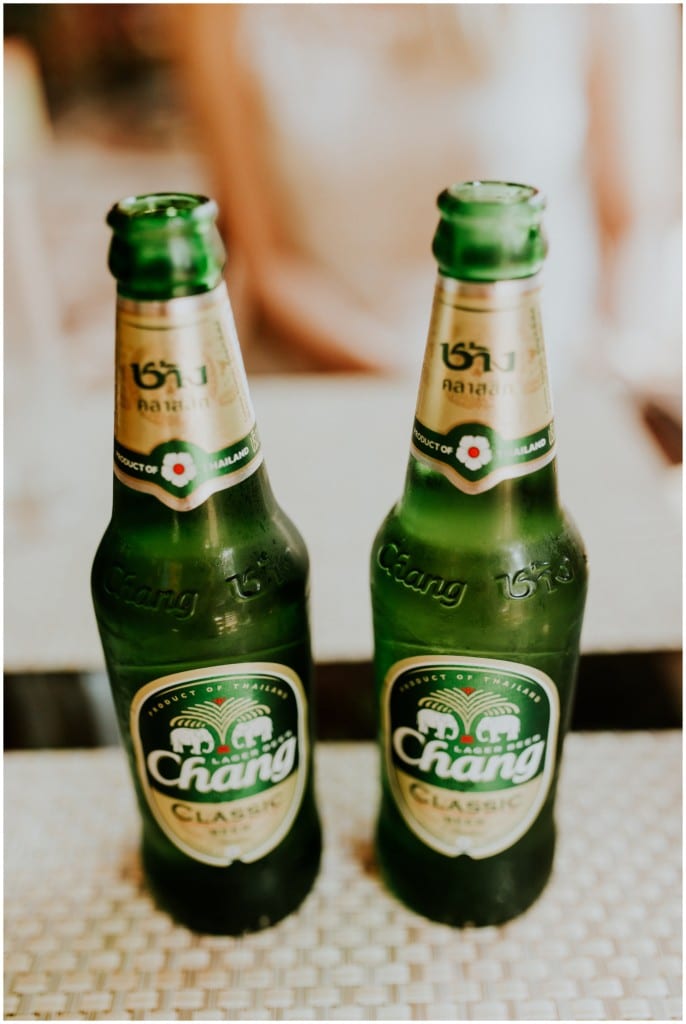 This was our first taste of street food! I actually couldn't tell you what it was. A dumpling of some sort? It tasted gooey, then sweet. Pretty sure it was filled with peanut something, and topped with sweetened coconut milk?


One of our meals that was a total of $14! (So $7 each!) We had three entrees, an iced coffee, two large beers, and three bottles of water.











Mango and sticky rice! Mmmmm.





This was the night we decided to only eat bites of street food for dinner!












Then we walked home.



The second day we ventured up to Doi Suthep after breakfast (which is included at the Green Tiger! Yummy). We grabbed a red taxi that goes up and down the mountain all day picking up anyone who needs a ride. We had the whole taxi to ourselves for the 30 min ride for 200baht. The temple is stunning. It has a long vertical staircase with a cascading dragon on each side. The temple at the top is filled with both tourists and locals praying. You must take your shoes off and wear respectful clothes, meaning covered legs and shoulders. (I didn't see anyone get turned away for wearing inappropriate clothes, but I also didn't see anyone disrespecting this rule. There were some shorts that were questionable though). On our way back down from the temple, we hopped in another red taxi (this time it was full) and asked them to stop halfway so we could make a quick visit to the Huay Kaew Waterfell. (Insider tip; not really worth it. It was hot dry, and the swimming hole was very tiny!). We had a little harder time getting another red taxi back down the rest of the mountain, but eventually found one. That night we booked a cooking class through the Green Tiger at the Asia Scenic Cooking School. VERY worth it! We learned about the different vegetables and herbs that were abundant in Thailand, and then walked through the market to see what else they use in their everyday cooking. (Katie and I noted that the neighborhood in which the market was in was super cute, and we wanted to go back there the next night for dinner and drinks!). Then we went back to the cooking school to whip up all sorts of dishes! We made pad thai, cashew nut chicken, coconut soup, Tom yum soup, massaman curry, panang curry, and spring rolls! Nom Nom Nom. They even give you a cook book to take home with you! That night we went out around town to see what the night life was like, and still felt very safe and had a great time.


This was when we got a private taxi up to the top of the mountain to Doi Suthep. It was relaxing to have it all to ourselves up the winding roads. We weren't as fortunate on the way down!





This is the staircase to the top of the Doi Suthep temple.







You must take your shoes off and wear appropriate clothing when visiting temples. (Appropriate clothing as in covering your shoulders and knees).  
















Then we asked our taxi to stop halfway down the mountain so we could check out a waterfall. Very off the beaten path. (Probably not worth it in the long run. The "waterfall" was more of a stream, and it took awhile to get to the swimming hole at the top. In that heat, we were very dehydrated, with a small reward). We eventually found a taxi that would take us back into town.





Here was a bit from our cooking class at Asia Scenic Cooking School! We were shown around their garden, pointing out what vegetables we wold be using, then we stopped into the local market as well. When we came back to the school, we cooked our food and had a nice meal! (Highly recommended! They even give you a cook book at the end, which I've used a few times since being home!)







Our last day in Chiang Mai may have been the most memorable. We visited the Elephant Nature Park! This park is famous for its humane treatment of the elephants, all who have been rescued from mistreatment, starvation, or disease. We got to feed them AND wash them in the river! We spent a few hours there and they treated us to a large buffet of delicious Thai dishes. When we got home around 3pm, we went out for our last evening in Chiang Mai. We walked and walked, and got a few drinks at Zoe in Yellow before calling it a night. Good bye Chiang Mai! You were AMAZING!














Day 7-9: Koh Phi Phi!
We took a flight from Chiang Mai down to Krabi. From there we arranged a pick up van that would take us to the ferry that goes to Koh Phi Phi island. The ferry was about a 2 hour ride and it was HOT outside. The ferry was packed with young fellow backpackers ready for the weekend. We specifically planned on being on the islands for a Friday and Saturday night, knowing that Phi Phi has a reputation as the 'party island'. Once we docked we walked to our lodging, the Cobble Beach Hotel. We got the cheapest room there, which was just three single beds and a private bathroom (Erin was going to be meeting up with us the second night!). Our hotel had a beautiful pool and complimentary breakfast. The first day we just walked around the whole island. It is small enough that you can pretty much figure out your bearings within an hour! Katie got a fish foot massage, and I'm pretty glad I skipped that one. We went out to dinner and then out for the night. Koh Phi Phi is just packed to the brim of young travelers looking for a good time. And the north side beach is where you will find that at night. Flame throwers, DJs, glow in the dark body painting, and fire limbo.



Here is Katie getting a…..foot massage? (I opted out of this one…)












The next morning Erin came in on a ferry, and after she dropped off her bags, we got a private long-tail boat tour for the three of us for sunset. (Yay! Now we could split all of our bills by three!) This was probably the highlight of our time around the islands. The boat came with snorkel gear, water, and fruit. (We brought our own beer along). For 3-4 hours we cruised around the islands just south of Koh phi phi, and snorkeled around the private lagoons. Before heading back to Phi Phi, we stopped in the middle of the ocean for the most beautiful sunset. We went out again that night, but realized we are just too old to keep up with most of the pack these days, and called it a night fairly early.













A private lagoon!












Day: 9-10: Railay Beach
On the morning of the 9th day, we picked up another ferry to head towards Railay Beach. In contrast to Koh Phi Phi, Railay is more for families and honeymooners. This was the night that we splurged on a beautiful room at the Railay Bay Resort and Spa. The three of us shared a private cottage with our own outdoor hot tub. All we did in Railay was relax by the pool, which was an infinity pool overlooking palm trees and the bay filled with long tail boats nestled beneath towering cliffs. Picture perfect. Our resort's restaurant was too over priced for our liking, so we walked to the otherside of the bay where we found some cute small restaurants. The one we picked had a rooftop with tables where you must take your shoes off for and then sit on the floor to eat. We people watched and lounged on the mats and ate our dinner. It was delicious! And at quarter of the price of our hotel's dinner would have been. We went to bed early and got to sleep in until check out time.








Day 10-13: Siem Reap, Cambodia
Good bye Thailand, hello Cambodia! Erin and I both agreed that when we travel, we wanted to see as much as we could, and hopefully as many countries as possible in one trip. Originally we were thinking of seeing Thailand, Cambodia, and Vietnam, but the timing of it all was just not in our favor. But we couldn't skip the temples of Angkor Wat, so that's where we were headed next. We flew from Krabi, to Bangkok, to Siem Reap, which was our most expensive hopper flight of the trip (about $130?). We easily got our Cambodian visa at the Siem Reap airport, and then got a taxi to our hotel, the Rambutan Hotel. This spot was perfect. The hotel was cheap, had beds for 3 people, free breakfast, a pool in a beautiful courtyard, the friendliest staff, it was down a private road, yet it was walking distance to Pub Street and the night market. We stayed there for 3 nights, and we each paid about $22 a night. Unreal! They also hooked us up with a tuk tuk driver to the temples all three days we were there. We got in fairly late the first night, around 10pm, but we were so energized we decided to walk down to Pub Street anyway! We ate dinner at a nice rooftop bar, and then spent some time at the bar called 'Angkor What?'. We had a blast, but then in the middle of the night I got food poisoning. I was sick the whole next day. By 2pm, I was feeling fine enough to tell the girls that I would be ok on my own and that they should go spend the afternoon exploring the temples. They got me some medicine and gatorade and they headed out. While they were gone they picked me up a 3 day temple pass as well, so that we could try to make it out for sunrise the next morning without spending the time to get a pass for me beforehand. (I spared you photos from my day in bed sick).
The next morning we had a wakeup call of around 4am, and we were at the Angkor Wat temple by 5:20! We still didn't beat enough people to get front row seats on the river, and I was still feeling too woozy to stand in the crowd. We picked a "not as picturesque" spot that wasn't crowded, but I could sit down. The sunrise was still stunning, and it was cool to be there with a 1,000 strangers to take it all in. We explored that temple a bit, and found some monkeys by the river on our way back, also enjoying the sunrise. Then we had to find our tuk-tuk driver in the crowd of other drivers, sleeping in their tuk-tuks. We hired this guy for all of our temple excursions while we were in Siem Reap. Once we found him, we took us around to the other major temples. Ta Prohm was my favorite! With the overgrown trees and their roots claiming the ruins in the jungle. We went to about 4 tempels that day, and headed home before it got too hot out, and before we got too "templed-out". We still had all day tomorrow! The rest of the day in Siem Reap we just cruised through the markets. The street food options were much more daring in Siem Reap, but after my sickness, I had NO interest in trying any. All I could think about eating was something cold, so we opted for ice cream instead. We went out again that night, and sat ourselves up on one of the many street bar carts that line up on the road. Basically your own private bar! Beers in Siem Reap were about $1, depending where you go! Cambodia was definitely cheaper than Thailand.


This is the large crowd at 5am waiting for the sun to rise over Angkor Wat.




Inside the main temple of Angkor Wat.






The monkeys watched sunrise with us too!







After you were done with your temple, you have to walk around the parking lot trying to find your tuk-tuk driver, while most of them were sleeping like this….





Ta Prohm!




















The infamous Pub Street of Siem Reap














At night, street cars come park in the middle of the road that are literally portable bars. You can claim one to yourself!


The next morning, we had already packed our bags and were ready to check out, but we still had about 3-4 hours left before we had to leave for our flight. So, we went back to the temples! We asked our tuk-tuk driver to take us to his favorites, or any of the small ones he thought we would like. (Eventually, the temples do get repetitive, so it's nice to see any that are "different" in any way.) We saw another 4 temples, and then headed back. We were all done with our short trip to Cambodia!







Day 14-15: Bangkok, heading home.
We got into Bangkok in the evening. Traveling so much in this heat, especially after getting sick, REALLY takes a toll on you. We had no desire to really go out and explore. The next morning we *did* try to visit the Grand Palace, but after a 45 min drive there, and crowds of 10,000, we got *right* back in a taxi and headed back to our hotel before even going inside. We figured at this point all we wanted to do was lounge, at our amazing rooftop pool and bar. So, *sorry* for not taking many photos of Bangkok! I don't regret putting the camera down and just sunbathing poolside for hours on end! We enjoyed our last dinner in Southeast Asia at Zanibar, a cute atmosphere with live music. Bangkok was definitely the most expensive part of our trip, but we didn't mind spending what we had left on some leisure time, refreshing drinks and a lovely meal. We headed to the airport the next morning, and because of the time change, *technically* landed back in Los Angeles a that evening! Then my sister headed back to New York the next morning (a Sunday), and she was at work by Monday. Boom. Two weeks in Southeast Asia, on a budget!
Here was a break down of all our costs. Please note that these prices are the portions that I paid, taking into account that we were splitting costs by 2 or 3, which helps a lot!:
Flights from LA to Bangkok (roundtrip): $630
Cab from airport to hotel (about 40 min ride): $10 each
Bangkok hotel: $42 (each, one night)
Flight from Bangkok to Chiang Mai: $43 (each)
Cab from airport to hotel (Chiang Mai, 10mins): $6
Green Tiger Vegetarian House (Chiang Mai hotel): $23/night (x3 nights)
Elephant Nature Park: $73
Cab to Doi Suthep (45mins): $6 each
Cooking Class: $23
Flight from Chiang Mai to Krabi: $74
Ferry to Koh Phi Phi (2 hours): $15
Cobble Beach Hotel Phi Phi: $12/night (x3 nights)
Private long-tail boat (3 hours): $15 each
Ferry to Krabi: $20
Railay Beach Resort: $50/night
Ferry to Krabi and cab to airport: $7 each
Flight from Krabi to Siem Reap: $125
Rambutan Hotel (Siem Reap), including tuk tuks to temples: $30/night (3x nights)
3 day pass to Angkor Wat temples: $62
Flight from Siem Reap to Bangkok: $92
Cab to hotel: $6 each
Bangkok Sheraton Hotel: $35/night (2x nights)
=$1,529 + food. If you averaged that we paid around $30-50 a day for food (breakfast was almost always provided at our hotels), that puts us right around $2,000! We also tipped our cab and tuk tuk drivers, but tips there are minimal and didn't really put a dent into our budget. Drinks were also factored in to the food cost, with a drink ranging from $1-3, depending where you were. And that's it! Flights, food, lodging, cabs, entertainment, drinks, and tips.